Victor – Grand Prix
Sire: Welt Hit II
Dam: Orpari by Purioso
DOB: 2002
Victor is of phenomenal character and a super talent. This wonderful imported KWPN gelding has had strong success over the years with his owner bringing him successfully through the levels from a 4 year old to an International Grand Prix CDI mount. Last year in 2015, Victor and his owner were among the top 15 in the country at Grand Prix in  Florida for the Festival of Champions. Victor also qualified for the Festival of Champions Intermediare One in 2013. He is as kind hearted and confident as they come. He loves the ladies in the barn and is always looking to say Hi!
Victor is a very sturdy sound horse with no maintenance and a strong body. He stands approx 16.1 1/2h and is well suite for an amateur or Junior rider. He is a barn favorite and will make a loving partner. Very flashy scopey gaits that are comfortable to sit on. He sits very well in the pirouettes and piaffe and has lovely spring in the passage.
Check out all of his scores at: http://www.centerlinescores.com/Horse/Details/1048597#filterBy=scores
Victor is by Welt Hit II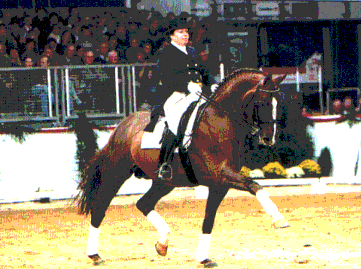 Welt Hit II is sired by Weltmeyer, the winner of the Federal Championship in 1987. On his dam's side, are the notable Wolgatraym, the excellent dressage stallion, Granili S, who was the victor at Oldenburg in 1994 and Herannus, who was also admitted by the KWPN. This maternal lineage is based on Arabian bloodlines. Welt Hit II, has the gift for producing excellent dressage performances. This "king of beauty" makes himself seen at shows. In 1994 he was reserve champion during the admission of stallions to Oldenburg. In 1995 he achieved during tests at Medignen 141,74 points for the training (Leistungsklasse I). In 1996 he was reserve champion at Oldenburg during the keuring of stallions. In 1997 he was "Future Stallion" at Zwolle and became "Young Stallion the Year, 1998." He was classified sixth at the Federal Championship at Warendorf in 1998 for stallions of six years of age. Meanwhile, Welt Hit II has been successful in Prix St George and has always placed when shown. His descendents have enormous presence. In 1998, one of his colts was champion at Arnhem. Welt Hit II, at 9 years , has produced 10 approved sons. Welt Hit II's first foals, in 1996, were appreciated by breeders. Many were sold at auction at Vechta and Oldenburg. One sold at Vechta to the USA for 340,000 DM. At the PSI In Ankum in 1999 a three year old daughter of Welt Hit II was sold for the price of 400,000 DM, and in 2000 two of his offspring for the respective price of 200,000 DM and 800,000 DM. Welt Hit II has produced champions and in 2000 Linsa Hansen won at Rastede with a four year old son of Welt Hit II. 
Victor's Dam Sire Purioso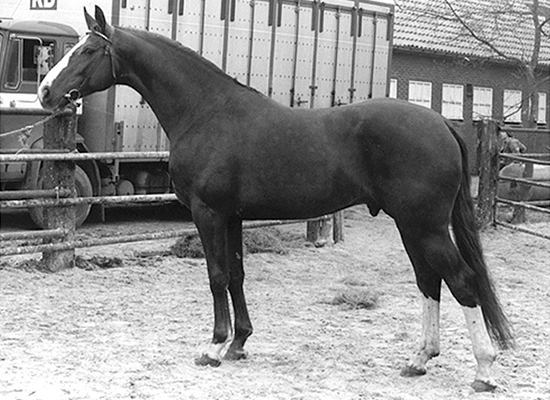 Purioso is a dutch warmblood stallion with excellent bloodlines, sired by Furioso II who sired 69 approved stallions and 200 state premium mares, the influence of Furioso II can be found on every continent around the world. As well as Purioso, other offspring of Furioso II includes Faust Z, Forum and the legendary Voltaire.
From the beginning Purioso met the high expectations set by his bloodlines, during his performance test he received an 8 for loose jumping and a 9 for jumping under saddle.
Offspring of Purioso can be found in competition rings around the world, as a result he is considered one of the leading progenitors' of the 90`s, progeny of Purioso include Henderson Gammon winner of the Calgary grand prix, Blue (winner of the 6-yr-old competition), Bentley, Cantor, Faido (Champion Showjumper of the National Stallion Competition for 4yr-olds) , Olympic Wendela (winner of the Grand Prix of Italy at Pavarotti's), Baiderdash, Condor, Werner BJ , Lavender Olympic Ambush and Vashkar. Purioso is also the sire of Olympic Cocktail who was ridden by Anky van Grunsven and became one of the leading dressage horses in the world, during the Barcelona Olympics Purioso had no less than 5 horses nominated to compete. Purioso was later awarded 'keur' status by the KWPN because of his excellent record as a breeding stallion.
Victor has recent Xrays on file!
Go down center line and get your gold medal!
Video of Victor April

June 2017 GPS 64.5% 2nd place!

Victor in CDI Grand Prix Special test 2015!