Vergano – 1st/2nd level
Sire: Versache* by Ferro
Dam: Gana de Gauguin x Gaugin de Lully
DOB: 3/26/11
Vergano is a bright bay Oldenburg gelding standing 16h. Four white socks and a blaze. He is extremely comfortable to ride and shows talent to easily move up the levels. He has three balanced above average gaits and a comfortable build. We hack Vergano out all over our 70 acre farm and he very much enjoys it. This lovely 5 year old gelding has a super show record in hand and scores to 84% in the materiale under saddle classes. He is now ready to start his Dressage career and take his next rider to the next level. Schooling 2nd level! Started on clean flying changes!
Vergano is by Versache who is by Olympic Ferro.
Versache is a great example of a modern sporthorse. Versache has the perfect balance of athleticism, pedigree, and temperament. He offers to his foals excellent overall movement resulting in even and balanced horses with three fantastic gaits. His offspring have terrific natural toplines and well placed necks and strong hind end movement.
Versache is a 17.2 hand, Dutch stallion, by the famous dressage stallion, Olympic Ferro and out of an Elite Dutch mare by Idocus Crown, another fantastic dressage producer. Versache has shown tremendous versatility, excelling in both the dressage and jumping arena. In 2013 Versache ranked in the top 20 for leading Dressage Breeding Sires with the USEF.
His career started in 2007 where at the ISR/ Oldenburg stallion test, he was Reserve Champion of the 30-day stallion test scoring a 123.23, with a dressage index of 127.73 and a jumping index of 127.53. Additionally, he went on to receive the US Reserve Champion in the jumping IBOP with a final score of 76. Versache has gained three stars (*/*/-/-/*) with Oldenburg NA, first for his conformation at inspection, second for his stallion testing and third for producing two approved stallions.
Vergano's Grand Sire Ferro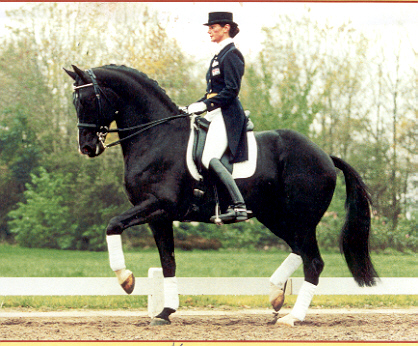 Olympic Ferro, the Dutch sensation at Aachen,  competed at the 2000 Olympics and assisted his team in achieving a team silver medal, with an individual score of 74.92%. As a three-year-old he was champion of his performance test at Ermelo, where he achieved the outstanding results of 6.5–step, 8.5–trot and 8.5 gallop. His sire Ulft, is a son of the great Le Mexico, who is listed 10th on the jumping index with 142 points. Le Mexico carries Furioso xx blood, which brings value to any pedigree. Ferro's dam, Brenda, is a daughter of the Holsteiner, Farn, who is listed sixth on the jumping index with 146 points. Farn's son Nimmerdor, is listed second on the jumping index with 155 points. Olympic Ferro sired the champion of the three-year-old stallions at s'Hertogenbosch in 2000, and has nine young stallions in the second round there in 2001. The champion three year old mare at Ermelo in 2000 was an Olympic Ferro daughter. Much is expected of this charming, talented black stallion who achieved the title of "Keur" in 2000. He can be relied upon to produce beautiful, typy, talented offspring of the highest quality. Fantastic toplines and an elegant look characterize his get. In addition to their dressage excellence, Olympic Ferro's offspring also make good jumpers. Olympic Ferro is #1 on the BN World Stallion Rankings for dressage and is the top stallion and pride of the Netherlands, affectionately known as the "Black Pearl." In 2002 Olympic Ferro once again had the highest scores on the Dutch Olympic team.
Vergano's Dam sire is
Called by the European press "the dream couple", the partnership between rider Christine Stuckelberger and Gauguin was world famous, proving the stallion to be willing, sensitive, and intelligent in his nature.
Gauguin de Lully- The 16.2 h Grand Prix Dressage Stallion whose performance record is unequaled:
Seventy-two 1st, twenty-seven 2nd, and three 3rd prizes
Seventeen Grand Prix and Grand Prix Specials
Twelve Dressage World Cup Kurs
Two Dressage World Cup Finals
Swiss Dressage Champion
World Reserve Champion 1986
Bronze Medal, 1987 European Championships
Team Silver Medal, 1988 Olympic Games
Individual Bronze, 1988 Olympic Games
Second, 1989 World Cup
Second and Fifth, 1990 World Championships